畫作名稱:【大宮女】
作者:讓 ‧ 奧古斯特 ‧ 多明尼克 ‧ 安格爾
大宮女是由安格爾(Jean Auguste Dominique Ingres)繪製的一幅 1814年的油畫,描繪的是一個流氓或妃子。安格爾的同時代人認為這一作品是意大利藝術家從新古典主義中脫穎而出的,表明他們正在轉向異國情調的浪漫主義。
The painting name
:【
La Grand Odalisque
】
Painter
:
Jean Auguste Dominique Ingres
Grande Odalisque, also known as Une Odalisque or La Grande Odalisque, is an oil painting of 1814 by Jean Auguste Dominique Ingres depicting an odalisque, or concubine. Ingres' contemporaries considered the work to signify Ingres' break from Neoclassicism, indicating a shift toward exotic Romanticism.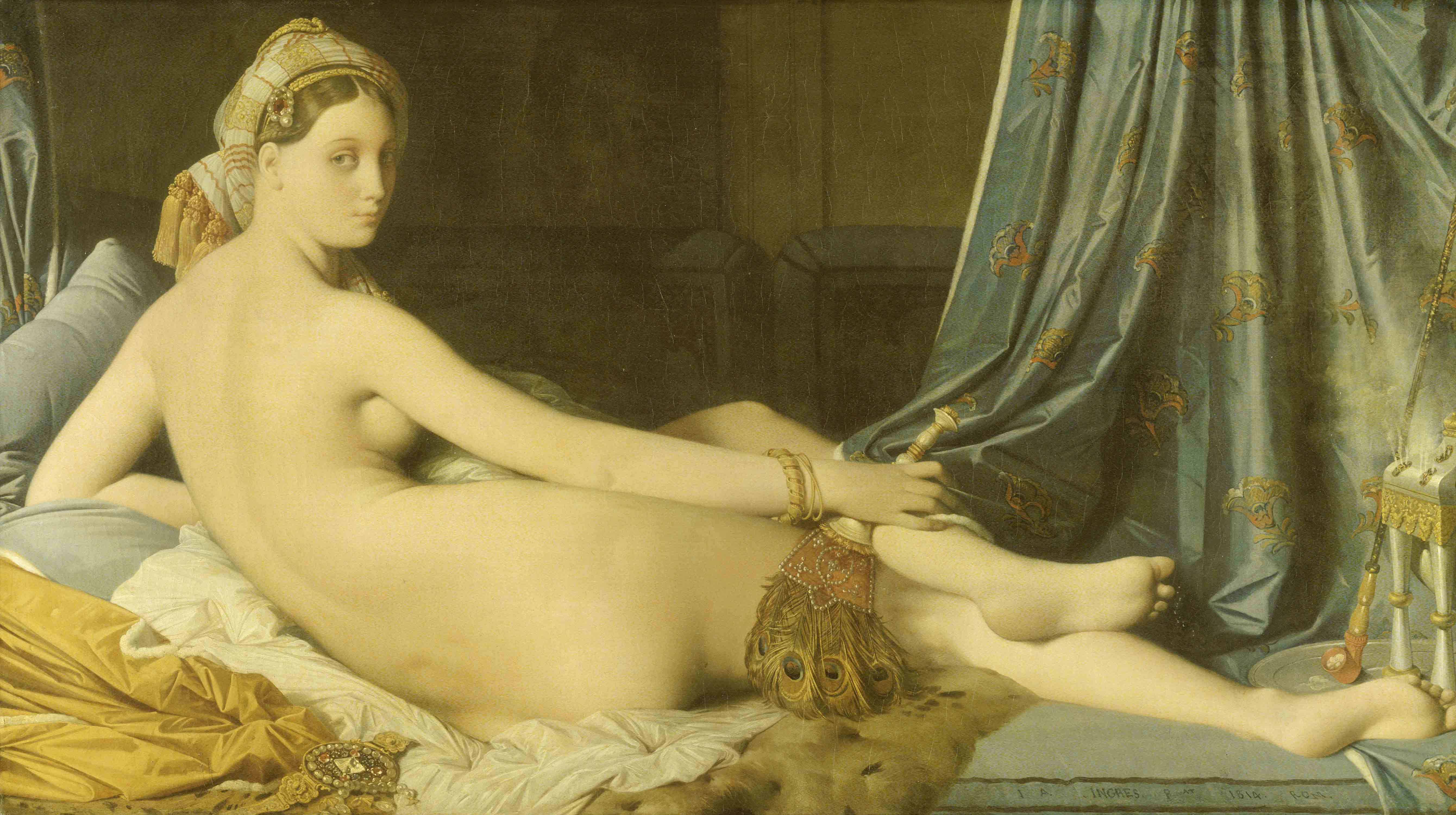 金箔有成色的區分,禾禮公司所製作的產品顏色所呈現的均是黃金色澤,金箔底材保證含金純度99%以上,除保有原畫作原貌風格之外,更嚴謹呈現黃金的高貴瑞氣,材質及成色若有差異,難以製造出精緻複製畫,畫作的保存時間也將有年份的長短。

The distinction between the color of gold foil,we produced gold painted color rendering are gold color,gold foil to ensure the gold purity of 99% or more.In addition to maintaining the original appearance of the original paintings, but also showing the noble gold.Material and color if there are differences, it is difficult to create exquisite copy painting.The preservation of paintings will also be different.
以含金純度99%以上純金箔(工研院 工服號碼9707B006登錄號碼9707CA04 Singapore SETSCO SERVICES PTE LTD No.H12850/NTL)精細複製,所投入的機器設備相當精密,人力更具有專業素養,對於品質、品管的管控標準相當嚴謹,呈現品牌產品應有的水準。

To gold purity of more than 99% pure gold(ITRI Service Number 9707B006, Registration Number 9707CA04 Singapore SETSCO SERVICES PTE LTD No.H12850 / NTL)fine copy.The investment in machinery and equipment is very sophisticated,more personnel with professional knowledge.For quality control standard of very strict quality control, product brand presents the standard expected.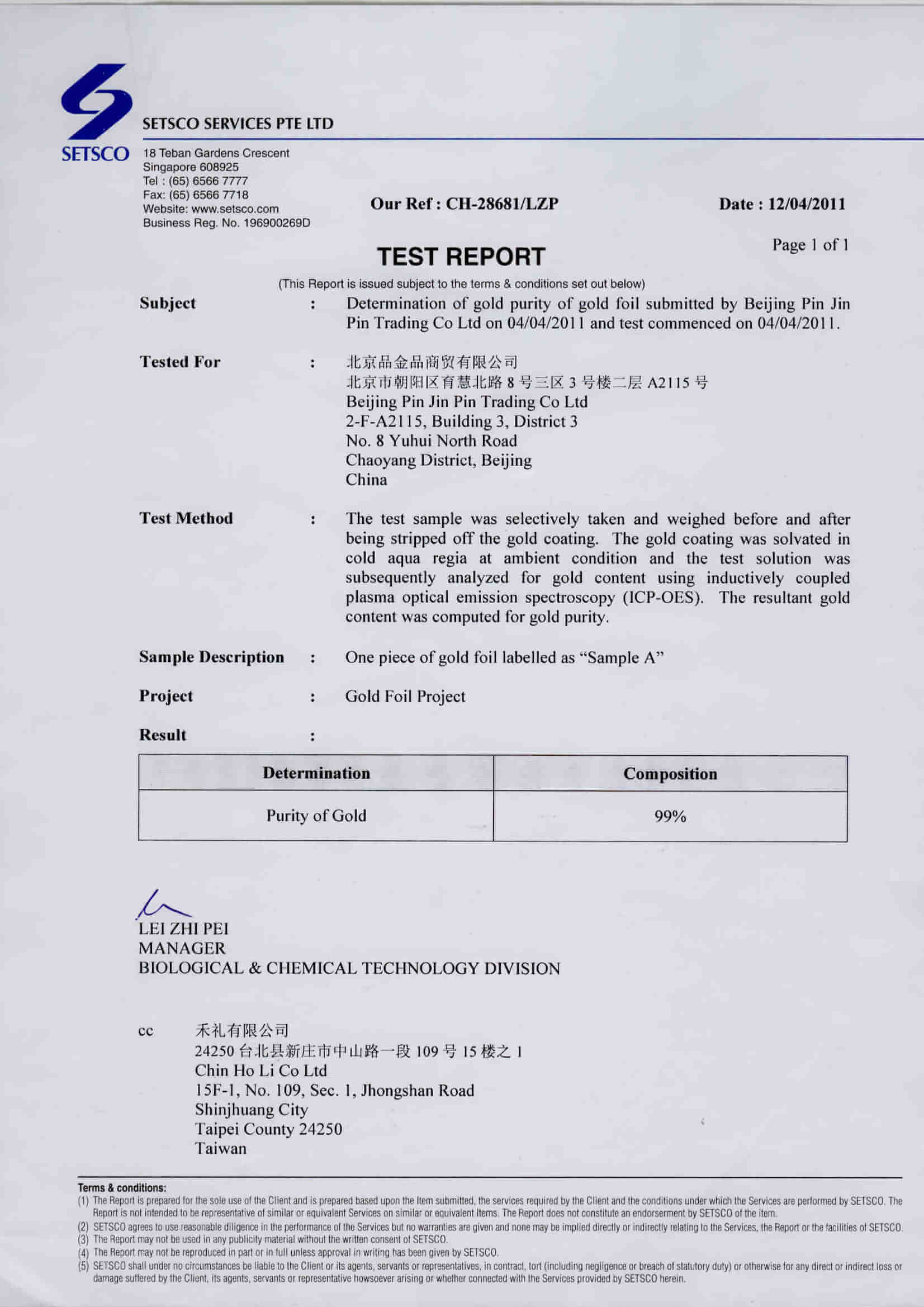 新加玻黃金質量檢驗驗證書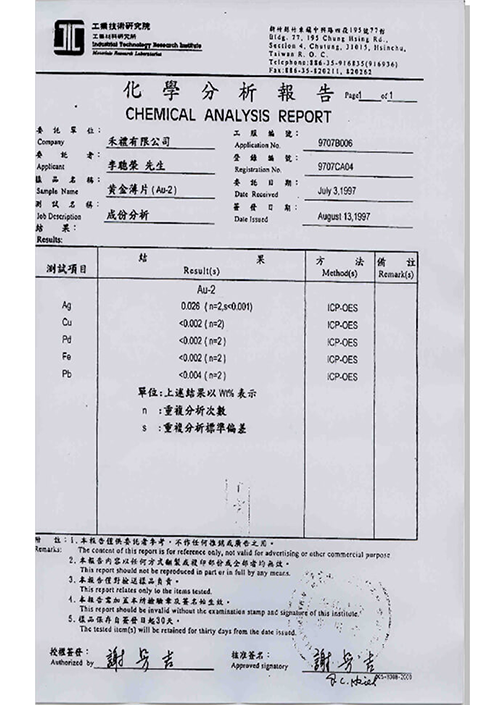 台灣工研院質量檢驗證書