畫作名稱:【草莓】
作者:皮耶 - 奧古斯特 · 雷諾瓦
雷諾瓦的繪畫仍然充滿歡樂,草莓的描繪非常精細。不同形式和質地的物品和水果被一個接一個地擺在鋪著摺痕的白色桌布上。然而,畫作不是單調的。它被放在左下方的桌布上的黃油刀和從糖罐中伸出來的茶匙的手柄以及草莓上的葉子帶來了生命。糖罐的圓形形狀反映在檸檬和水果碗中。除了花瓶和水果碗等容器之外,雷諾瓦很少在這幅靜物畫中引入惰性物體,比如這把刀, 色彩本身清新開朗:黃色,藍色和紅色都能吸引和欣賞觀眾的目光。
The painting name
:【
Strawberries
】
Painter
:
Pierre Auguste Renoir
Renoir chose to live in the Midi region of Southern France from the 1900s onwards. He took up residence in Le Cannet and Cagnes-sur-Mer, where he built a house in 1908. He painted the Midi in numerous still lifes, often opting for a long format as in this case.
Despite his failing health which forced him to work while seated, Renoir's paintings continued to be filled with joy. This delicious small format canvas has been painted with great care. The strawberries are portrayed with great accuracy. The objects and fruits with their different forms and textures are laid out one after the other on the white tablecloth covered in creases. And yet the composition is not monotone. It is brought to life by the butter knife set down on the tablecloth in the bottom left and the handle of the teaspoon sticking out from the jar of sugar, as well as the leaves on the strawberries. The rounded form of the sugar jar is reflected in the lemon and the fruit bowl. With the exception of containers such as vases and fruit bowls, Renoir rarely introduced inert objects, like this knife, into his still life paintings, unlike Paul Cézanne (1839-1906).
金箔有成色的區分,禾禮公司所製作的產品顏色所呈現的均是黃金色澤,金箔底材保證含金純度99%以上,除保有原畫作原貌風格之外,更嚴謹呈現黃金的高貴瑞氣,材質及成色若有差異,難以製造出精緻複製畫,畫作的保存時間也將有年份的長短。

The distinction between the color of gold foil,we produced gold painted color rendering are gold color,gold foil to ensure the gold purity of 99% or more.In addition to maintaining the original appearance of the original paintings, but also showing the noble gold.Material and color if there are differences, it is difficult to create exquisite copy painting.The preservation of paintings will also be different.
以含金純度99%以上純金箔(工研院 工服號碼9707B006登錄號碼9707CA04 Singapore SETSCO SERVICES PTE LTD No.H12850/NTL)精細複製,所投入的機器設備相當精密,人力更具有專業素養,對於品質、品管的管控標準相當嚴謹,呈現品牌產品應有的水準。

To gold purity of more than 99% pure gold(ITRI Service Number 9707B006, Registration Number 9707CA04 Singapore SETSCO SERVICES PTE LTD No.H12850 / NTL)fine copy.The investment in machinery and equipment is very sophisticated,more personnel with professional knowledge.For quality control standard of very strict quality control, product brand presents the standard expected.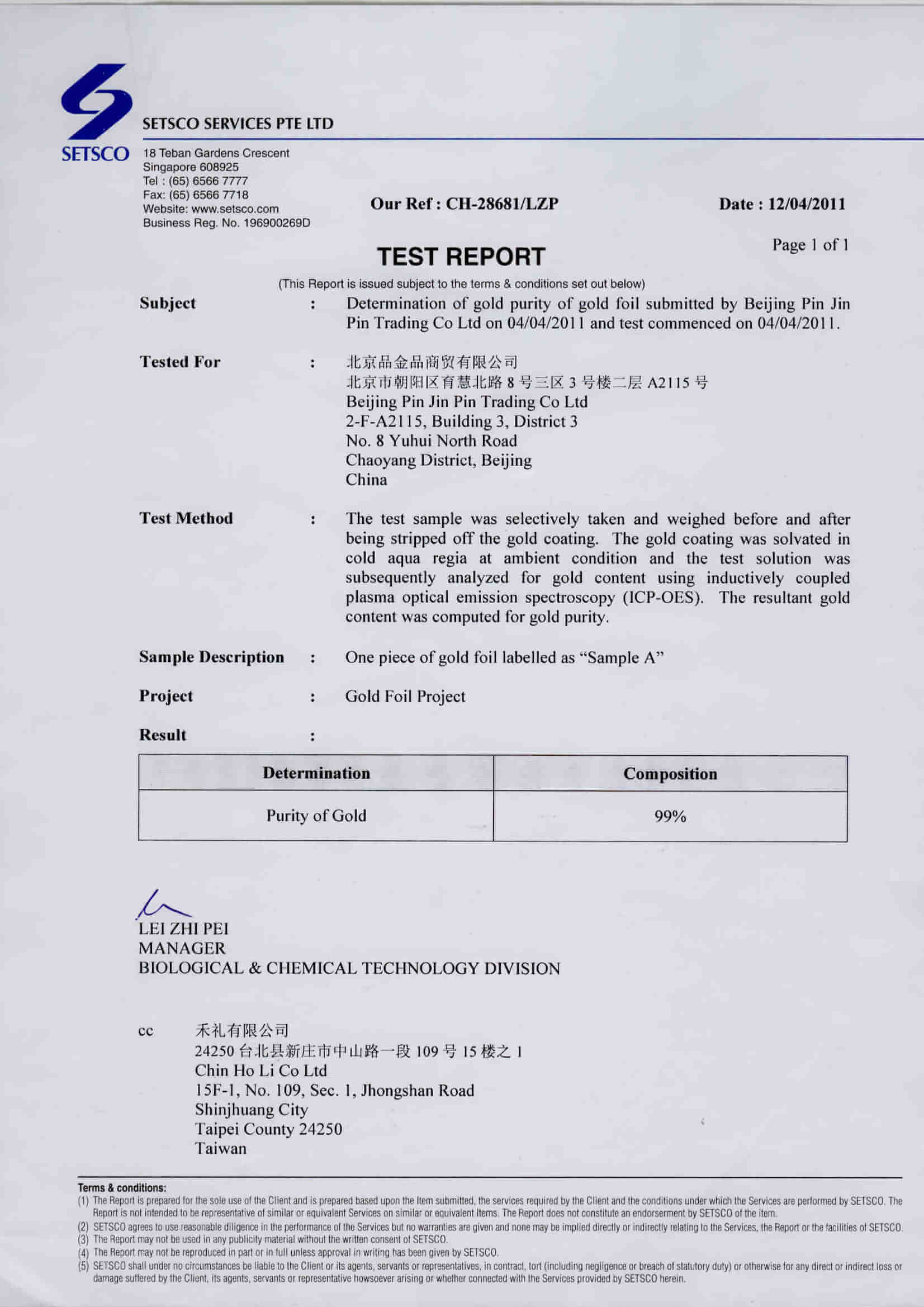 新加玻黃金質量檢驗驗證書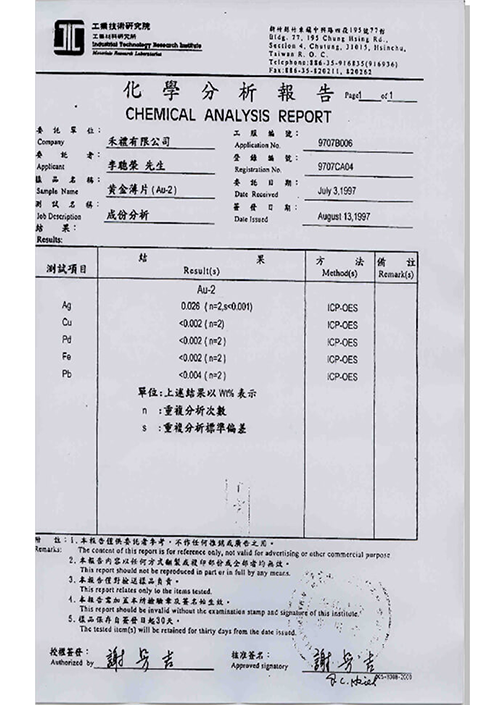 台灣工研院質量檢驗證書