畫作名稱:【開泰圖】
作者:清 ‧ 郎世寧
郎世寧(西元 1688-1766年),義大利人,本幅為郎世寧五十八歲之作。寫生綿羊三隻,表示「三羊開泰」之意。畫法參酌中西,把母羊溫柔慈愛、小羊稚嫩天真的表情動作,描寫得極為傳神動人,背後襯景的老梅、翠竹,用筆自由,具有傳統中國畫法的寫意情趣。
The painting name
:【
Three Goats
】
Painter
:Ching ‧
Giuseppe Castiglione
Giuseppe Castiglione was an Italian Jesuit novitiate trained in painting and architecture.Castiglione did this work at 58. In a natural setting are "3 goats" a homophone symbolizing "Three Yang, an Auspicious Start (to the New Year)." Using delicate brushwork and refined colors with Chinese and Western methods, the nurturing ewe gently cares for her 2 lambs in a natural and animated scene. This part may have thus been done by another court artist.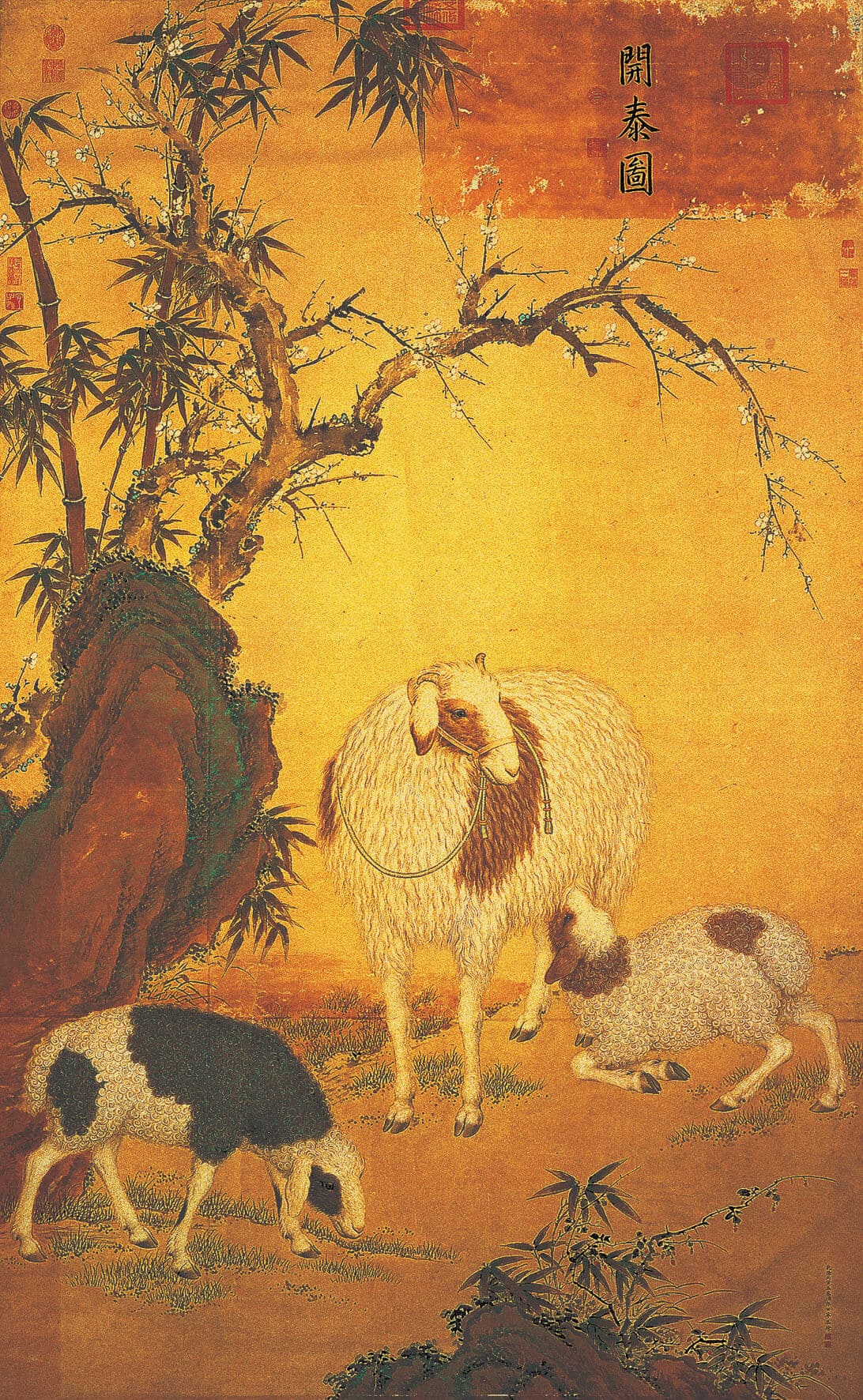 金箔有成色的區分,禾禮公司所製作的產品顏色所呈現的均是黃金色澤,金箔底材保證含金純度99%以上,除保有原畫作原貌風格之外,更嚴謹呈現黃金的高貴瑞氣,材質及成色若有差異,難以製造出精緻複製畫,畫作的保存時間也將有年份的長短。

The distinction between the color of gold foil,we produced gold painted color rendering are gold color,gold foil to ensure the gold purity of 99% or more.In addition to maintaining the original appearance of the original paintings, but also showing the noble gold.Material and color if there are differences, it is difficult to create exquisite copy painting.The preservation of paintings will also be different.
產品具有防水、抗紫外線,襯布為歐盟環保認證,中間板材為防潮材質,為上市公司南亞、永豐餘之紙板,非一般低價夾板。

Products are waterproof, anti-UV,interlining for the EU environmental certification. The middle plate is moisture-proof material also a listed company cardboard, non-ordinary low-cost cardboard.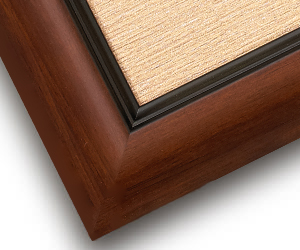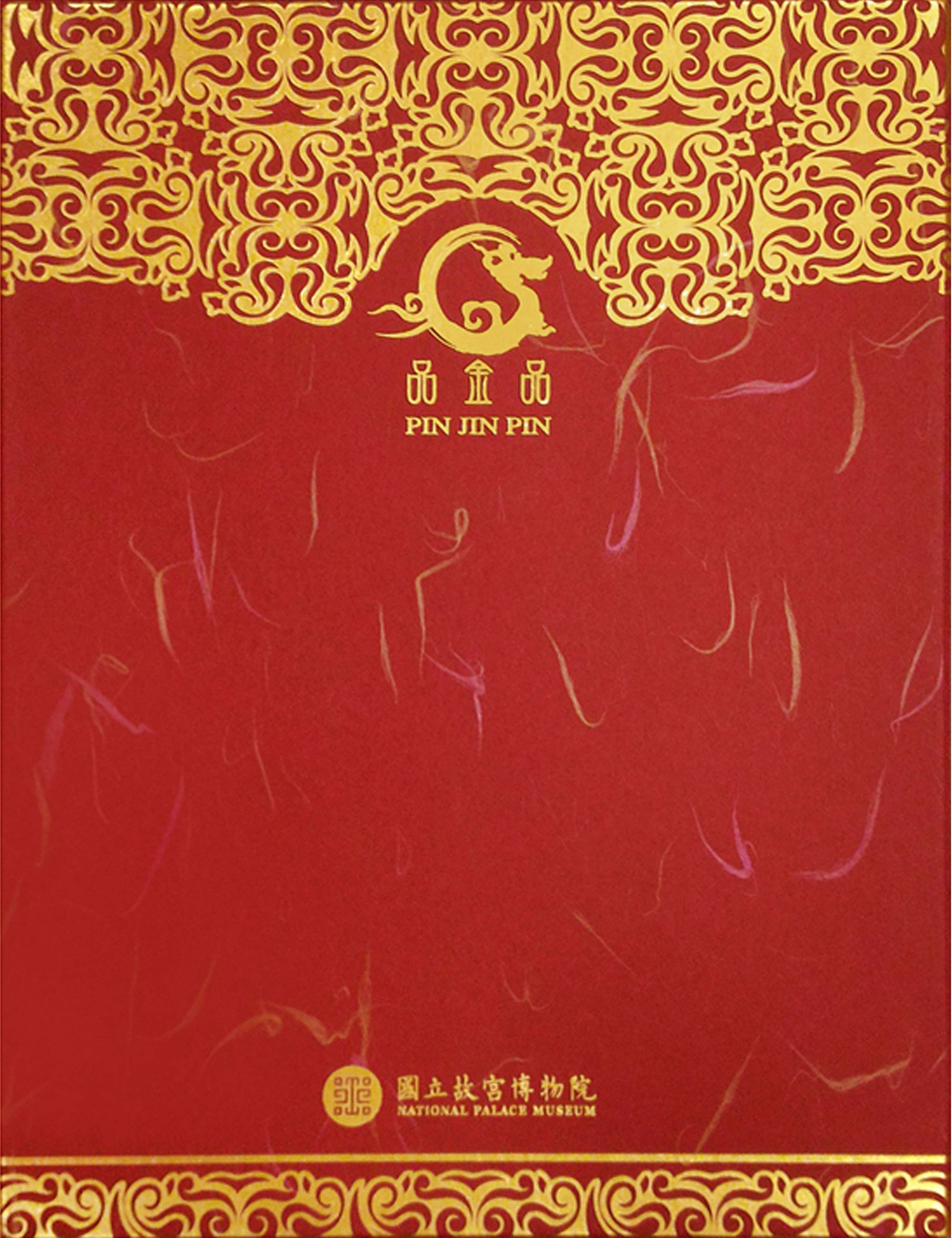 禾禮公司以「工藝傳世 黃金之美」 的目標理念,開發設計精緻的黃金畫作,全程台灣製作,堅持品牌產品的質量與整體設計,彰顯其高貴特色,整體設計包裝與市場其他金箔畫有明顯區分。

With the goal of "the beauty of gold in craftsmanship". Development and design exquisite gold paintings.All made in Taiwan, adhere to the quality of the brand name products and the overall design.To highlight its noble features,the overall design and packaging of the market with other clear distinction between gold painting.
以含金純度99%以上純金箔(工研院 工服號碼9707B006登錄號碼9707CA04 Singapore SETSCO SERVICES PTE LTD No.H12850/NTL)精細複製,所投入的機器設備相當精密,人力更具有專業素養,對於品質、品管的管控標準相當嚴謹,呈現品牌產品應有的水準。

To gold purity of more than 99% pure gold(ITRI Service Number 9707B006, Registration Number 9707CA04 Singapore SETSCO SERVICES PTE LTD No.H12850 / NTL)fine copy.The investment in machinery and equipment is very sophisticated,more personnel with professional knowledge.For quality control standard of very strict quality control, product brand presents the standard expected.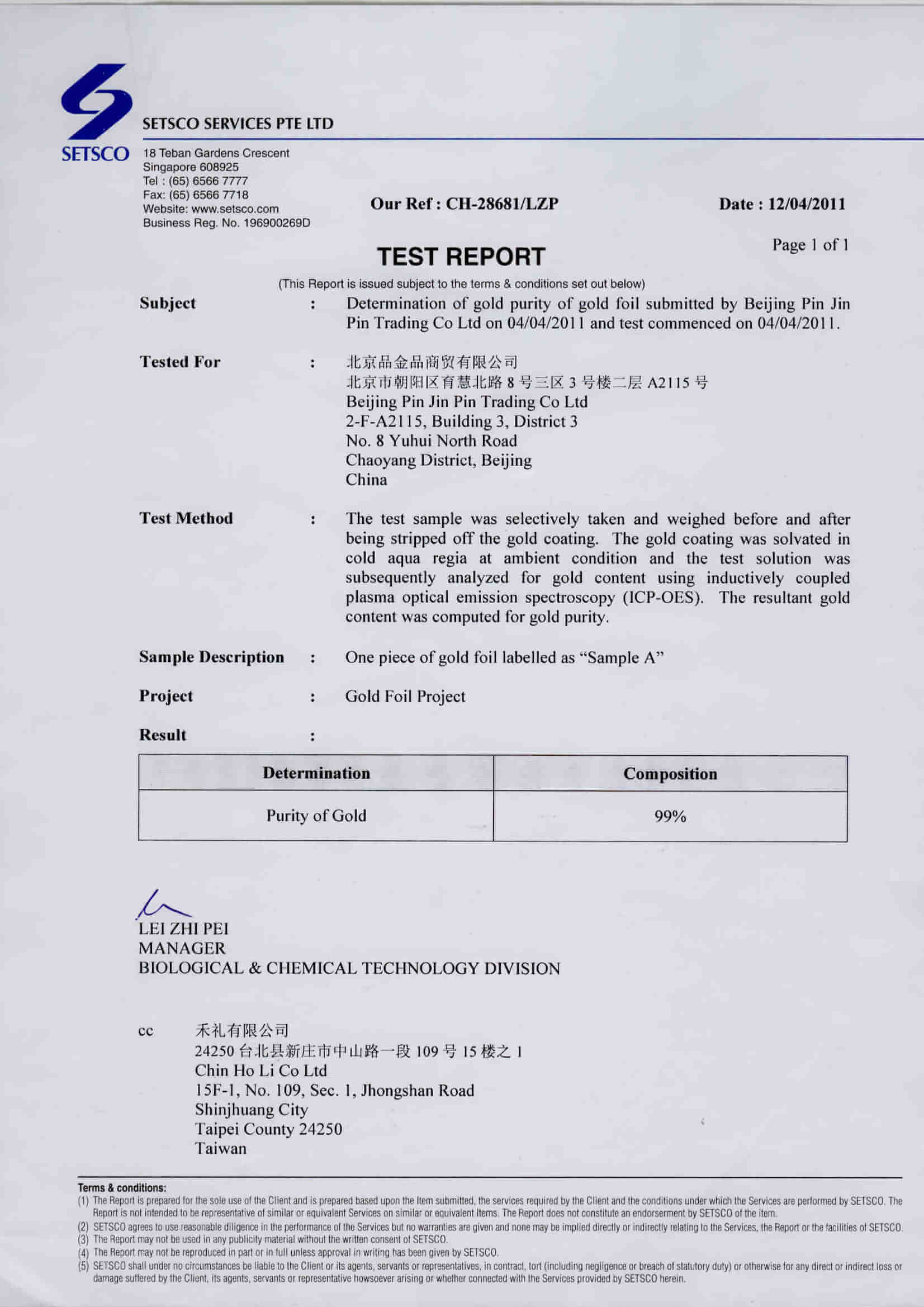 新加玻黃金質量檢驗驗證書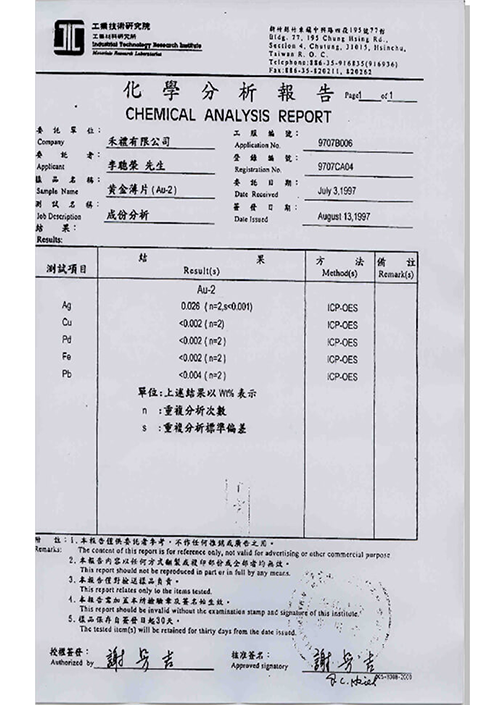 台灣工研院質量檢驗證書